Jessie Lee Cashwell Boney's siblings
James Edwin Cashwell (Jim), 1905-1989
Jim enrolled at NC State College and was there for two years. With no money for further education he moved to Cleveland to find work, and there he met and married Gertie Wall. They lived in Chicago briefly, but returned to Ohio and lived outside Cleveland. Both Gertie and James did war work, and after World War II they moved to the Old Place where he had grown up. He was the head of the service department at TPL Motors in Clinton. Later he worked for a Toyota dealer. After retiring he enrolled at Sampson Community College and earned a degree in horticulture. He was the oldest student to receive a diploma there. He and Gertie had five children.
Anna Marie Cashwell Teachey (Marie), August 21 1907 - April 6 2000
Marie attended Eastern Carolina Teachers Training School and earned a teaching certificate. There was no four-year degree at ECTTS then. She taught at Clement, Roseboro, and Turkey, all in Sampson County. She married Guy B. Teachey, who was the principal in Turkey. There was a rule against having a married couple teach at the same school, so Marie taught at Ingold after her marriage. She lived with her parents, and Guy would come to Ingold on weekends. Guy was later Principal in the Clinton schools, and their daughter Nan was born while they lived in Clinton. Their last move was to Asheboro, where Guy was Superintendent of the Asheboro schools. Their second child, Phillip, was born in Asheboro. Guy died at age 81 in 1985.
Joseph Leon Cashwell (Joe), 1909 - 1990
Joe studied at Wingate Junior College (now a four-year university) for two years. Then he went to Cleveland with his brother Jim to find work. He met and married Lucille Rutkamp in Cleveland, and she encouraged him to continue his education. He studied at Western Reserve at night while continuing to work during the day. He graduated with a teaching degree and returned to North Carolina to teach in Rocky Mount, then in Grimesland. During World War II he joined the Navy and was an officer. After the war he returned to Grimesland and was Principal there. He received a Masters degree in education at Greenville (then Eastern Carolina Teachers College, now East Carolina University). He went to Albemarle as a Principal, and later worked in the NC Department of Education. He retired near Sanford. He and Lu had two children, Richard Gordon (Dick) and Susan. Later in life, after Lu's death, he married Marilyn.
John Gordon Cashwell (Gordon), March 26 1912 - February 10 2000
His nickname in childhood was "Happy". He enrolled at Campbell, then a two-year school. He worked for the Soil Conservation Service and the Selective Service, and was ready to resume civilian life when World War II broke out. He joined the Army, became a sergeant and fought in Europe. After the war he returned to work in the Soil Conservation Service in Wadesboro, Salisbury, Burgaw—where he met and married Margaret Betts—and finally in Clinton. He and Margaret lived in Ingold, where Gordon cultivated beautiful flowering plants and vegetables which he shared generously. He was a pillar of the Ingold Baptist Church, next door to his house.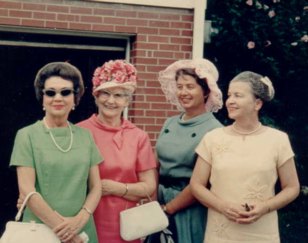 Gladys, Jessie, Dolores and Louise
Ellen Louise Cashwell Smith (Louise), May 24 1914 - 1997
Louise was born when Jessie was eleven years old. Louise went to Ingold High School, and also to Pineland School for Girls (which Jessie had attended) for a year to study chemistry, not available at Ingold High. Then she went into nursing training at Pittsman's Hospital in Fayetteville. Later she worked as a nurse in New York City. One of her patients was Madame Chiang Kai-shek, who gave her a beautiful brown leather purse as a thank-you present. Blue Smith followed Louise to NYC and persuaded her to marry him and return with him to Fayetteville. They were married at The Little Church Around the Corner in New York. They had one child. After her husband's death Louise returned to work as a nurse in Fayetteville.
Gladys Elizabeth Cashwell Foster, July 10 1916 - August 20 1987
Gladys was the last of the children born while the family was living at the Old Place, and was four years old when they moved to Ingold. She enrolled at ECTC and received a four-year degree, apparently with some difficulty—as Jessie said, "her mind was not focused on her studies". She taught school in Yancyville NC for about two years. There she met Shelton Foster and they were married on December 23, 1941, at the College Street home of Jessie and Landron in Clinton. It was a rainy day, and the rice the guests threw at the departing couple stuck in cracks between the planks of the porch. The rice swelled and left white streaks. Gladys and Shelton had three daughters (Patricia, Joanna and Rebecca) and lived in Wadley, Georgia.
Robert Manley Cashwell (Manley), May 25 1921 - 1995
Manley graduated from UNC-CH in 1942 with a degree in sociology. He enlisted in the Air Force and was stationed on Tinian as a mechanic to service B-29 bombers, including the Enola Gay. He asked his parents to send watermelon seeds and he grew watermelons on Tinian. When he returned from the war he found that his mother had kept a smoked ham just for him (this was a scarce commodity by the end of the war, because of the rationing), keeping it as a special treat for him to enjoy on his return.
He taught school at West Edgecombe and studied in the evening to get his Masters degree in Education. He bacame the Principal there, and later became Principal of a private school. He married Hannah, a teacher at West Edgecombe. When he first brought her to his Ingold home to meet Mama, he said, "Here's Hannah", and Mama replied, "How should I know who Hannah is?" They had two children, Rose Anna and Robert.
Doris Dolores Cashwell Ferguson (Dolores), born January 21 1924
After graduating from Ingold High School, she took a one-year business course at Campbell College and then joined the WAVES. She and Robert Henry Ferguson were married in Ingold Baptist Church. They had met when Bob, who was in the Navy, was coach of the WAVES basketball team and Dolores was on the team. After the war, she left the WAVES but still worked with the Navy until retirement. They have two children, Gloria (married with two children, her husband also in the Navy) and Robert Henry Jr., known as Robin.