Australia
Trevor Bassett

Trevor Bassett recently completed his Graduate Diploma in Financial Planning and is now a qualified Financial Adviser. Since commencing croquet in 1990 as a ten year old, he has won three National titles and 12 State titles. Trevor's most notable achievements in the last 12 months include winning the Victorian Open Doubles and Singles, making the final 32 of the Worlds, and making the semi-final of the Worlds plate event.
Martin Clarke

Martin is a member of the Mandurah club, just south of Perth, and formerly played at Geraldton. He won the Australian Doubles title in 2002 with Alan Sands and previously represented Australia in the MacRobertson Shield in New Zealand in 2000. He works in hardware retailing.
Bruce Fleming, Team Captain

Bruce Fleming is Captain of the Australian team. He started playing croquet in 1982 and has won numerous titles at State and National level in Australia including the Men's Open Singles and the Gold Medal event at the 2003 Australian Championships. He has played in three Trans Tasman series and in the MacRobertson Shield in New Zealand in 2000. He played in the recent tournament at the Resort at the Mountain, Oregon. Bruce is Operations Manager for the Australian National Electricity Market Control Centres located in Brisbane and Sydney.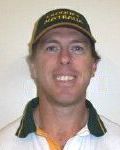 Stephen Forster

Stephen is thirty-nine years old. He and his wife Julie have two children: Zach who is eleven, and Eden, eight. Stephen is a chef at Geelong Hospital. He has played competitive croquet for twenty-eight years and has represented Victoria nine times (4 times as captain). He was runner-up in the Australian Doubles 2002 and runner-up in the Australian Open 2003. This is Stephen's first time on the Australian MacRobertson Shield Team.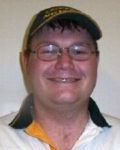 Simon Hockey

Simon is twenty-four years old and employed as a stores manager. Simon began playing croquet at age eight, sixteen years ago with his mother. He was a member of the victorious South Australian state team this year. He has won the Australian Treasurers Plate, Z event in this year's Australian Nationals as well as in 2001. He won First Eight in President's Eights, 2001. Simon's highlights have been his selection to Sonoma Cutrer in 2000, the Trans Tasman team against New Zealand in 2001, and 3rd place in the New Zealand Open in 2003. He is looking forward to the MacRobertson Shield.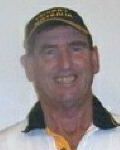 George Latham, Team Manager & Coach

George Latham, Team Manager/Coach, is a retired teacher from Melbourne Australia. He played in the 1986 and 1990 MacRobertson Shield, won each Australian title, and is still competitive. George enjoys coaching at all levels and is Coordinator of Victoria's Schools Croquet Program. He is currently planning the new 12-court Victorian Croquet Centre in Melbourne.
Stephen Meatheringham

Stephen has been playing croquet for about 10 years and represented Australia in the 2001 WCF World Championships. He is the current New South Wales captain and won the 2002 Canberra Open.
Great Britain
Mark Avery

Mark is 37 years of age, and lives and works in the family business in East London. He first played tournament croquet in 1980 as a fourteen year old. This will be his third MacRobertson Shield. His first appearance was in 1986. Major domestic successes include the Opens Singles Championship in 1987, two Open Doubles Championships, and the Chairman's Salver. Mark has also been the Western and Northern Champion.
As with many top players, his fast, graceful style and accurate croquet strokes belie the difficulty of the game.
Matthew Burrow

Matt is a 23 year old Jerseyman born and bred. He is in his ninth croquet season and started playing after winning a set of lessons one summer. The past 12 months have been particularly successful as Matt won the 2002 European Championships and the 2003 Resort Invitational. His earlier successes include both the Jersey and Irish Opens. He was a medalist at Sonoma Cutrer and last year represented Great Britain in the Solomon Trophy. He has always wanted to play in the MacRobertson Shield Tournament. Being in West Palm Beach for the 2003 Tournament is a dream come true.
Matt is always one to watch. He never gives up and will fight till the end. The Jerseyman is a risk taker where there is justifiable gain. This makes him stand out from the rest. With Mathew, you can always expect the unexpected.
Chris Clarke

Chris is 32 and has been playing croquet since the age of 13. This is his fourth MacRobertson Shield. Since the 2000 event, Chris has won the Open Doubles twice, once with David Maugham and for the seventh time with Robert Fulford.
Chris is single and takes advantage of his freedom to attend 40 horse race meeting every year, and listen to excuses from his trainer as to why his horse won't be running every week. Chris is a bookmaker and in his spare time works as a cost analyst at a haulage company.
Phil Cordingley, Team Manager

Phil is a 50 year old single IT Consultant living in North London. He first played tournament croquet in 1980, and has played the game at all levels since. Internationally he captained England in the Home Internationals and represented Great Britain on numerous occasions in the Solomon Trophy. Major domestic honors include the British Open Doubles Championship, the Western Championship and the Chairman's Salver. Now increasingly involved in the administration of the game, he is Chairman of the CA Selection Committee and Tournament Director of the 2005 World Championships to be held in Cheltenham, England.
Robert Fulford, Team Captain

Robert is the current and five time Croquet World Champion. He recently regained his ranking as the World No. 1 croquet player. Robert started playing in 1985. Since Robert first played on the team in 1990, Great Britain has won every MacRobertson Shield. This is his first time as Captain. Robert has played in Florida many times before, including playing in the Solomon Trophy and in the mid-nineties the Club Teams.
David Maugham

David Maugham is a 34-year-old Computer Technician living and working in Manchester. He has played competitive croquet since 1985. He reached the top level in 1990, and since then has won numerous honors including the President's Cup three times, the Sonoma Cutrer World Championship three times, the Australian Open, and the US Open. He has participated in three winning MacRobertson Shield teams for Great Britain. His crowning achievement came in the 2000 Shield, when he won the final, deciding game with a TP.
Stephen Mulliner

Stephen Mulliner, 50, is married to Sarah with four children (Lucy, Andrew (both 20 years old), Jonathan (18), Charlotte (14)). He is Head of Performance & Compensation Management at Old Mutual plc, the international financial services group, and non-executive chairman of James Smith Estates plc, a property investment company. His interests outside croquet include golf, tennis, running, hunting, and local politics. He has just completed a year as Mayor of his home town of Haslemere, Surrey.
Stephen has been playing tournament croquet since 1975 and this will be his 5th MacRobertson Shield appearance since 1982. Recent major achievements include victories in the 2000 British Open Championship, the 2001 Sonoma World Croquet Championship, the 2000 and 2001 British Open Golf Croquet Championships, and 4th place in the 2000 World Golf Croquet Championship in Cairo.
New Zealand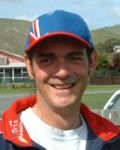 Greg Bryant

A second time MacRobertson Shield Rep (first time 1993) Greg Bryant is the current President's Top 10 Invitation champion and the Southern Premier Silver badge holder. He has played in four World Croquet Championships and also represented New Zealand at Sonoma-Cutrer on three occasions. He holds two NZ open doubles titles, three English silver Medals and two NZCC silver Mallets. He has yet to reach his crowning achievement in croquet.
When he is not playing croquet, Greg who lives in Nelson and works in the transportation industry, takes full advantage of the climate to engage in adventure sports, including mountain biking and scuba diving.
Dennis Bulloch

Two time national Doubles Champion and one time Men's Champion, Dennis is a player of long standing having taken up croquet in Dunedin, NZ in the late sixties. He recently sold his restaurant of seven years and has moved to Blenheim near the top of the South Island. Dennis regards his crowning achievement as coming third in the World Championships in England in 2001. He has twice represented NZ at Sonoma Cutrer and holds two Gold and one Silver Mallet as well as two English Silver and one Bronze Medal. Dennis has been an international referee, a national coach and was a member of the New Zealand Croquet Council Executive for 13 years. In this event.... perhaps a dark horse!
Kevin Fellows, Team Coach

An economist from Wellington, Kevin Fellows is known to many of the MacRobertson Shield players as the Manager of the WCF World Croquet Championships in Wellington in December 2002. He has been team manager, team facilitator and coach for New Zealand representative teams in 1999, 2001 and 2003. Kevin shows his love of the sport in listing his interests first, second and third as croquet (followed by wood-working, gardening and sailing). He was delighted to see his protégé Toby Garrison come runner-up in the 2002 World Championships. Kevin has been active for most of his 23 years playing croquet as a coach, international referee and member of NZCC committees for coaching, high performance, laws, tournaments and handicapping.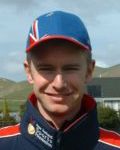 Toby Garrison, Team Captain

Even though he is the youngest in the New Zealand MacRobertson Shield Team, Toby Garrison is no stranger to international play. This will be his second time in the MacRob team—2000 being the first time. Toby has represented New Zealand at Sonoma Cutrer 1997, 1998 & 2000, the Trans Tasman Test Series in 1999 & 2001 and the World Championships in 2001 & 2002—where he came runner up. He was the NZ Open Champion in 2001 and a doubles champion in 1998 & 2001 with Dennis Bulloch.
Toby is a bank officer in one of the foremost trading banks in Wellington and identifies his coach, Kevin Fellows as his greatest influence in the sport. Sport plays a large part in Toby's life as does Music. His crowning achievement in croquet is to be selected twice for the MacRobertson Shield.
Charles Jones, Team Manager

Charles Jones finishes his four-year term as President of Croquet New Zealand in time to accompany the New Zealand MacRobertson Shield team to Florida as the Team Manager. Charles managed the MacRobertson Shield team in 2000 and the New Zealand Trans-Tasman test teams in 1995 and 2001. Charles is a notable croquet player in his own right and represented New Zealand in the NZ v Great Britain Rep match in 1979 as well as the World Golf Croquet Championships in 1998. He is currently the Wellington Open Doubles Champion, the Wellington Challenge Series Double champion and the Wakatipu Open Champion.
Now that he is retired Charles is enjoying his croquet, golf, music, cooking and work as a Justice of the Peace. He is delighted to be part of the first MacRobertson shield series to be played in the United States.
Peter Parkinson

Peter began playing croquet in 1990 after he retired as a school teacher. Although he believes he is still working towards his greatest achievement in croquet, Peter has claimed a number of national titles en route to being part of the 2003 MacRobertson Shield team. Notable successes are winning the President's 16 Invitation event in 2000, two Silver mallets in 2002 & 2003 and an English Silver Medal in 2002. He also won the 2002–3 Southern Premier silver Badge. He is also a referee.
The greatest influences on Peter's play have been books by Wylie and Csikszentmihalyi. Peter's interests include building sports cars, classic motorbikes, music, wine and travel.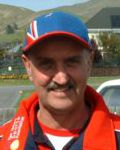 John Prince

A truly familiar face at the MacRobertson Shield challenges, John Prince has probably represented his country in the event more times than any other player. This will be John's 10th MacRobertson Shield—and he will play his 100th game in the Shield challenges. He has also played in the WCF Championships twice, been New Zealand Open Champion 8 times, won the President's Invitation 9 times, NZ Men's Championship 9 times and the New Zealand Doubles Championship 11 times. He regards his crowning achievements as being the playing captain for New Zealand's winning MacRobertson Shields teams in 1979 and 1986. Ashley Heenan has been his greatest influence in the game, a fact that becomes obvious from the time you see John put a ball on the lawn. John is an artist and a bank officer and lives in Christchurch.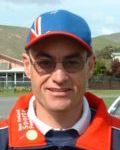 John Versey, reserve

It is a long way to Florida from Napier, New Zealand should he be called on, but John Versey, a school teacher, is in no doubt that his crowning croquet achievement to date is being selected as the non-travelling reserve for the New Zealand team and his dedication to his preparation is no less rigorous than for the rest of the team.
A player since 1988 John is quiet about his path to selection but his win in the plate event at the New Zealand Open in January 2003 followed by winning the WCF qualifying tournament in Nelson in December 2002 makes his place unsurprising.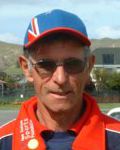 Brian Wislang

Brian Wislang is an orchardist who grows apples in Richmond in Nelson. His croquet-playing career began in 1979 and he has previously represented New Zealand in the MacRobertson Shield in 1996 and 2000. Brian won the Bronze Medal at the 2002 World Croquet Federation Championships in Wellington, New Zealand. He has played in the Trans-Tasman Tests in 1991 and 2001 and at Sonoma Cutrer in 1993, 1995 and 2000.
Brian has been a New Zealand doubles champion and was runner-up in the New Zealand Open in 1996 and 2002. He holds refereeing and coaching qualifications and regards his crowning achievement as partnering John Prince in a notable win over England at the 2000 MacRobertson shield. Along with golf and yachting Brian is probably more honest than the rest of us in that he acknowledges a hobby/interest as just wasting time—which he presumably does very well with his wife Adrienne and his two adult sons.
United States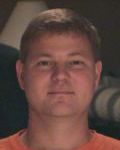 Curtis Drake
Curtis Drake is 38 years old and lives in Owensboro, KY with his wife Charlotte and their daughter Courtney. He owns a structural steel fabrication shop, and his hobbies are work and croquet. His first American rules tournament outside Kentucky was the February 2000 Arizona Open where he won First Flight Singles and Open Doubles.
He played his first international rules tournament in July of 2001. It was the Minnesota Open and he won the tournament. Curtis has never played in the MacRoberston Shield, but he was selected to play on the Solomon team in 2002 and was selected to go to the World Championships in New Zealand in 2002. There he was the highest placing American.
Jack Fournier
Jack Fournier, twenty-one years old (but turning 22 Nov. 12), graduated with distinction from the University of Virginia last August with an economics major and a mathematics/computer science interdisciplinary major. Jack was a senior in high school during the 2000 MacRobertson Shield, and therefore finished college in only three years. He is justifiably quite proud of this accomplishment and is now deciding what career to pursue. He is considering commercial real estate development. Interests outside croquet include golf, skiing, weight training, and both Ayn Rand's fiction and non-fiction.
Jack began playing croquet in 1988, and this will be his second MacRob appearance. His major tournament wins include two US Opens, two North American Opens, one USCA International Rules National Championship, and one Sonoma-Cutrer World Croquet Championship. Jack was also founder and captain of the University of Virginia Club Croquet Team, which won 3 National Collegiate Championships, and one USCA National Club Teams Championship.
Wynand Louw
Wy Louw is thirty years old and lives in Gainesville, Florida. He is a certified public accountant and Manager of Inventory Accounting at Regeneration Technologies. Wy grew up in South Africa, but married a 4th generation Floridian and moved to the US in 2000. He and his wife Lisa expect their first child in December. His hobbies are reading, old movies, and, he has a slight interest in chess.
Wy has played croquet since 1989. He hasn't won the US Nationals yet, but he hopes to push Jacques Fournier and US croquet to greater heights. This will be his first MacRobertson Shield appearance. He has represented South Africa against Ireland, Japan and Britain, but this will be his first appearance for the US. He won the South African Open twice and the North Carolina Open in 2002. Wy was runner-up to Fournier in the 2002 International Rules Nationals and runner-up in the 2002 USCA Rules National Doubles. He reached the North Carolina Open semi-finals in 2003 losing to the eventual winner, Kenster Rosenberry in 3 games.
Wy's favorite piece of croquet trivia about himself is breaking Stephen Mulliner's run of 14 consecutive quarterfinal appearances in the British Open in 1995 after being TPO'ed by Stephen in game 3. According to Wy, Stephen hasn't forgiven him yet.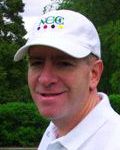 Kenster Rosenberry
Kenster Rosenberry is a 49 year old computer professional at Penn State University, located in the heart of Pennsylvania. When not on the croquet court he enjoys biking, fishing, tennis, squash, chess, billiards, and sleight-of-hand magic.
Kenster became captivated with six-wicket croquet in the late 80's when he and his wife Maryann Curione happened upon a croquet tournament while visiting the International Tennis Hall of Fame in Newport, Rhode Island. They were both immediately intrigued by the sport. So much so, that, having yet to play the game, they would return to Newport many times in the early 90's specifically to watch croquet.
In 1995, his wife bought him a Solomon mallet for Christmas. The following Spring they built a half-sized court in their backyard. Over the next five years, Kenster played a handful of tournaments. But in 2000, he started entering many more competitions. It was then that Jeff Soo introduced Kenster to team events. Subsequently, Kenster has played on two Solomon Trophy teams and one Carter Challenge Team. This will be his first MacRobertson Shield.
Kenster enjoys all forms of croquet: American Rules, Association Croquet, Golf Croquet, and his particular favorite, One-ball.
Jerry Stark, Team Captain
Jerry Stark is forty-eight years old and lives in Middletown, California. He is married to Donna, and has two children: Jessie (25), and Zac (17). His hobbies include croquet, darts, golf, and watching Zac wrestle and play football. Jerry has been the Director of Croquet at Meadowood Napa Valley for fourteen years.
Jerry started playing serious backyard croquet in 1978 in Kansas City. Numerous local victories included the Thick Joe Open and the Rockville Classic. When he found the real tournament game in Phoenix, he moved there and started playing six wicket croquet in 1983. He is the "old man" on the US Team and has played in all four of the MacRoberstson Shield events participated in by the USA. He has represented the USA in eight of the WCF World Championships, seven Solomon Trophy Teams, and two Carter Challenge Teams. He has competed in eight Sonoma Cutrer World Championships. Jerry is a member of the USCA/CFA Croquet Hall of Fame.
John Taves
John Taves is forty years old and married to Anne. They have two boys Jay, eight years old, and Chris, four. John runs two companies: Pick A Time and Pacific Northwest Software. PNWS provides IT consulting services. Pick A Time is a startup that provides an online appointment system. Corporations use it to allow their employees to make appointments for flu shots, and other health programs, and to sign up for educational classes. Schools use it to provide online class registration and parent/teacher conference scheduling. You will see him with his laptop for most of this tournament because schools are using the system right now.
John has been playing Croquet since 1990. He was selected to the 1996 and 2000 MacRobertson Shield. In the 1996 tournament he became the first American to achieve a winning record at a MacRob tournament. The last tournament he played began on 9/11/01. It was the USA Nationals, and he came in first.