Easy document management
Summary:
Multidoc version 2 introduces a new and easier management system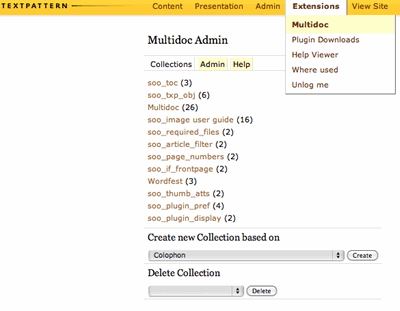 The Multidoc admin panel, list view
You create Multidoc documents, also called collections, in the Multidoc admin panel. This is accessed through the Extensions tab.
List view
The admin panel opens in list view, listing all your site's Multidoc collections, and the number of articles in each. A collection's name is simply the title of its start page.
Below the list are controls for creating or deleting collections. To start a new collection, select a starting page from the drop-down list and click "Create".
To add articles to a collection, click its name in the list. This brings up a detailed view.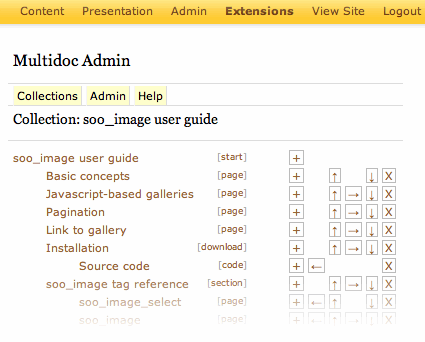 The Multidoc admin panel, detail view
Detail view
Detail view shows each page in the collection. Indentation is used to show the collection's hierarchical structure. Clicking a page title brings up that page for editing in the Write panel.
To the right of each page title is its Multidoc link type. Click a link type to change it.
At far right is a set of controls for arranging content:
Click [+] to add new pages as sub-pages of this page (a multi-select list of available articles will appear)
Click [↑] or [↓] to move this page (and its children) up or down within its current level
Click [←] or [→] to move this page (and its children) higher or lower within the collection hierarchy
Click [X] to remove this article (and its children) from the collection
That's it — you're ready to start adding Multidoc tags.
Next: Article list filtering
Posted 2009-01-27 (last modified 2011-01-08)